Harrisfield Primary School is in Noble Park in the City of Greater Dandenong. Although the school has natural catchment boundaries of Princes Highway, Chandler Road, Corrigan Road and the railway line, many families travel considerable distances to bring their children to Harrisfield. The school is a dynamic and vibrant learning community where effort is valued and students are supported to achieve in a warm and nurturing environment. The rich multicultural nature of our community makes Harrisfield an exciting place for both students and teachers. The physical structure of our school buildings supports a collaborative, team based approach to teaching and learning for which we have been recognized both nationally and internationally.
The traditional African proverb, "It takes a village to raise a child" epitomises Harrisfield Primary School. We ensure that all students are supported in their learning by employing only the best staff, maintaining extremely favourable teacher to student ratios for reading, writing and mathematics and ensuring staff have the skills to provide explicit, focused and targeted differentiated teaching to meet the needs of all the students they teach. By utilising every centimetre of our collaborative learning spaces and maintaining low staff/student ratios we create an extremely safe and secure learning spaces where students' emotional wellbeing is easily monitored.
The school's strength is its emphasis on the individual. Each child is known personally by both staff and fellow students. This creates a friendly and caring environment that fosters self-esteem and social and academic confidence. Harrisfield Primary School believes that children are most likely to realise their potential within a happy and secure learning environment that values their contributions.
We actively encourage student leadership, responsibility and appreciation of diversity. We aim to develop students who are confident, competent, articulate and resilient individuals. Through their active involvement in school life our students are inspired and motivated to achieve their best and make a meaningful and positive contribution to society, both during their time at school and beyond.
To enrol your child at Harrisfield Primary School, please contact the School Office to arrange an appointment with the Principal.
During your appointment the Principal will answer any questions you may have, conduct a tour of the school and complete a student enrolment form and other paperwork.
Please ensure you have your child's birth certificate or passport as well as their current immunisation papers when making your appointment.
School Zone Information
Our school zone is available on findmyschool.vic.gov.au. Findmyschool.vic.gov.au hosts the most up-to-date information about Victorian school zones for 2020 onwards.
Students residing in this zone are guaranteed a place at our school, which is determined on the basis of your permanent residential address.
The Department provides guidance through the School Placement Policy to ensure that students have access to their designated neighbourhood school and the freedom to choose other schools, subject to facility limitations.
You can find more information and answers to frequently asked questions on the Department's website under School zones.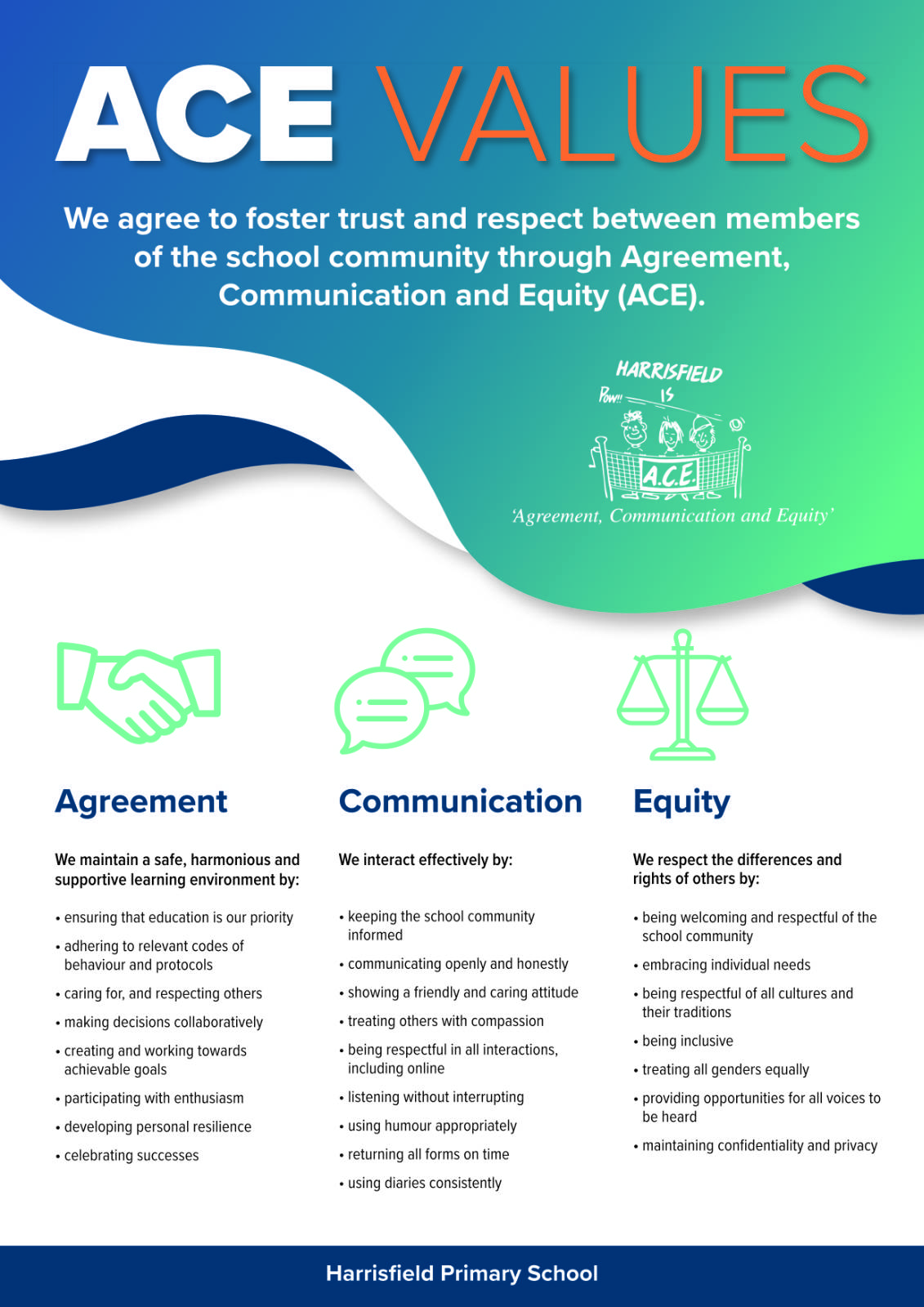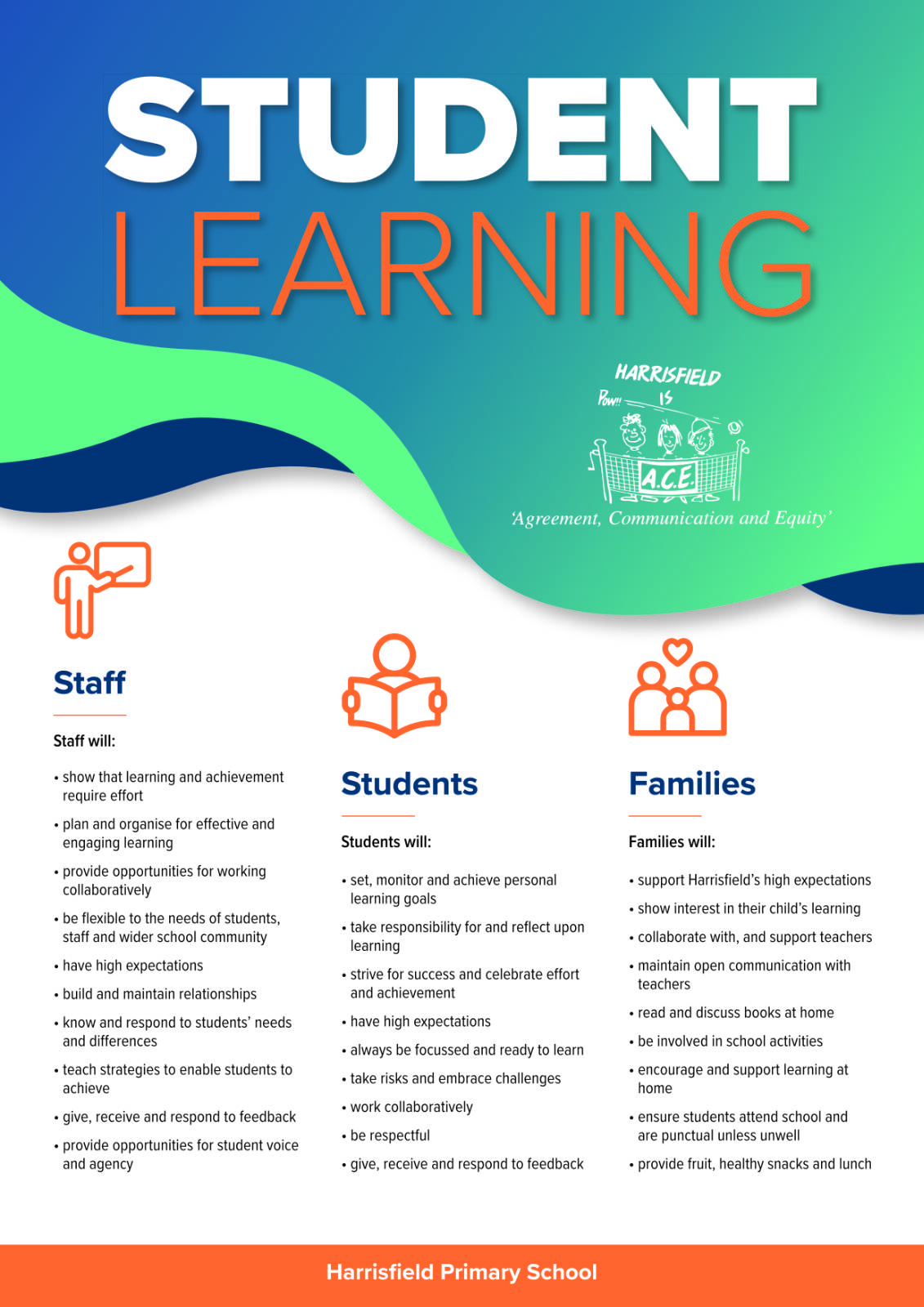 Respectful Relationships
Harrisfield Primary School is a Respectful Relationships school
But what does this mean?
Respectful Relationships is a whole-school approach to the prevention of family and gender-based violence. We aim to create a culture of respect and equality now, to change the story of family violence for future generation.
What do we do at Harrisfield?
We teach the Resilience, Rights and Respectful Relationships Program to all year levels.
We use gender inclusive language, represent girls and boys equally and in non-stereotypical ways and we call out gender-based violence or exclusion in the playground and classroom.
How can we be part of it?
CHALLENGE: don't let violence, of any kind, be an excuse.
PROMOTE: Encourage boys AND girls to be independent thinkers and decision makers.
CHALLENGE: don't let gender stereotypes and role expectations be the norm.
STRENGTHEN: encourage positive, equal and respectful relationships - always!
Who does it affect?
All of us! Staff, students, parents and community members all play a part in promoting and modelling positive attitudes and gender equality across the school community, to help bring an end to family violence.
Respectful Relationships Resources
Resource links go here...